eurovoice SIP Server and Load Balancer is a high-performance, highly configurable application for the advanced routing and processing of SIP sessions.
Built-in failover, monitoring and alerting provide network managers with the tools required to deliver high-availability SIP based solutions.  Typical uses include the distribution, control and management of calls to Interactive Voice Response servers, PBX's and call-centre systems.
The eurovoice SIP Server is simple to deploy, configure and manage.  It runs on 64-bit Windows operating systems in either a physical or virtualised environment and integrates directly with SQL Server or SQL Server Express.
The SIP Server Manager Graphical User Interface enables configurations to be rapidly created, deployed and updated live.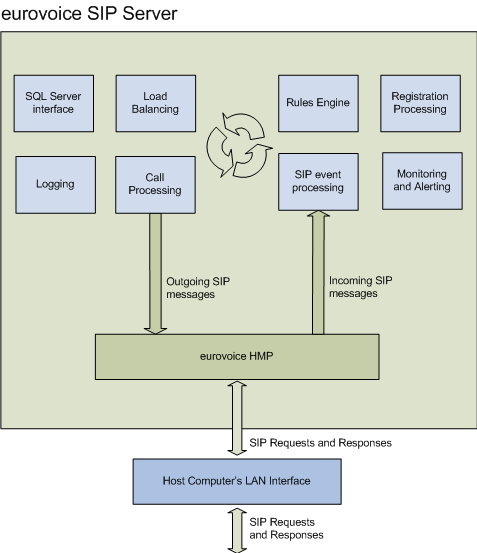 The eurovoice SIP Server implements the following functionality:-
·           Implementation of sophisticated custom routing rules based on incoming SIP header contents, date, time or source IP address.
·           Manipulation of SIP header contents and target destinations.
·           Load balancing of calls across multiple destinations using distribution patterns of:-
Circular / round robin.
Top down (i.e. for main / secondary / tertiary).
Destination with greatest number of free channels.
Longest idle.
·           Provision of a failover function to redirect calls to alternative destinations.  Failover is triggered if a destination rejects the call
or fails to respond within a configurable time.  An alert (email / database entry) may be triggered should a failover condition occur.
·           Option to terminate calls that exceed a configurable maximum duration.
·           Definition of SIP Server Users and acceptance of incoming SIP Registrations from such.
·           Outgoing SIP registrations.  Raising of an alert if registrations fail or fail to renew.
·           Periodic monitoring of predefined SIP endpoints (such as an IVR Server or IP-PBX) and raise an alert if the endpoint does not respond.
·           Real-time updating of routing rules, destinations, load balance groups, users and monitors.
The SIP Server Manager provides the network manager with an easy-to-use GUI to configure, control and monitor operation of the eurovoice SIP Server.  It may be run on the same server as the SIP Server is running or on a networked Windows PC or Server.
The SIP Server Manager provides:-
·           Real-time view of the SIP Server status, the current active calls and a graphical 'calls-per-hour' view for the current day.
·           History view of routed or rejected calls.
·           Ability to define routing rules, SIP header manipulation, destinations, load balance groups, users, monitors, alerts.
·           A 'live-update' feature so that routing rules, destinations, load balance groups, users and monitors may be changed whilst the SIP Server
is running and handling calls.
·           View of alert events.
Supported operating environments
eurovoice SIP Server 1.1 is designed and optimised for 64-bit Microsoft Windows operating systems.  Supported operating systems are:-
Windows Server 2008R2, 2012, 2012R2 and 2016
Windows 7, 8, 8.1 and 10
Connectivity may use either IPv4 or IPv6.  SIP over UDP, SIP over TCP and SIP over TLS are supported.  
eurovoice SIP Server requires an installation of either Microsoft SQL Server or Microsoft SQL Server Express (free of charge at time of publication), versions 2008R2 or greater.